Individual Sessions
Holistic Coaching
Coaching is instrumental is small and big ways to create and manifest the changes you want to make in your life. As a holistic coach, I can assist you to make life-style changes, create new aspects of your life or manifest health and wellness. It is easy and enjoyable.
Please enjoy an example of one of my holistic coaching sessions below:
---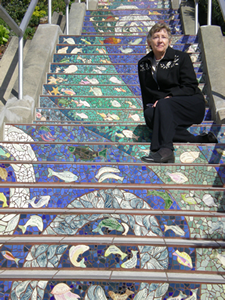 I have had a private practice in Integrative Imagery since 1990, in which I use many holistic complementary therapies. As a board-certified holistic nurse, I see each client as a whole human being on his own healing path. I serve as a guide and facilitator for each individual to access his own inner wisdom, resources and healing capacity. As a holistic health coach, I use deep listening, powerful questions, and an array of techniques to help clients focus in on, clarify and create the changes they want to manifest in their lives.
I see clients in Marin County, CA and am available for home visits. I also do phone and Skype sessions. Typically coaching or imagery sessions are 60 minutes and the course of sessions may be short or long term, depending on the client's needs and interest. The client and I agree upon the initial number of sessions in the beginning of our work. Each session begins with the client identifying the issue to be focused on and the guide setting up the structure for the specific imagery technique to be used. The imagery process itself is 20-30 minutes, and is initiated with a focusing-in period such as progressive relaxation or focused breathing. This allows the client to shift from a normal conscious state of mind into the realm of the imagination. Each imagery experience is like a unique, unfolding story. Some insight, information or change is always gleaned from the process. At the appropriate time, I guide the client back to an "awake" state where (s)he reviews the experience and what was learned to ground that into daily life. I serve to hold the sacred space and facilitate the session. All the while, the client remains actively engaged and in charge of the process. This is where the power of the process resides.


Areas of application
Health Promotion
Stress Management
Acute and Chronic Illness
Surgery Preparation and Recovery
Birth Preparation
Chronic Pain
Cancer and Treatment
Challenging Life Transitions
End of Life Care
Modalities
Guided Imagery
Integrative Imagery
Holistic Health Coaching
Progressive Relaxation
Meditation
Breathing Methods
Emotional Freedom Technique
Chi Gong Exercises
Pay for One-Hour Sessions Online
Contact me to schedule a session.


My coaching sessions with Susan have been nothing short of life-changing. She is wise and compassionate, helping me overcome the difficult issues that have been holding me back in life. She has a talent for getting to the heart of the matter, both physically and psychologically. Through Susan's gentle guidance I'm uncovering surprising insights into my behavior, and now have simple yet effective tools to make positive changes.
~Shirley

In my sessions with Susan I learned that one moment of grace can do for you what months and months of hammering away at a problem might never do.
~Rich